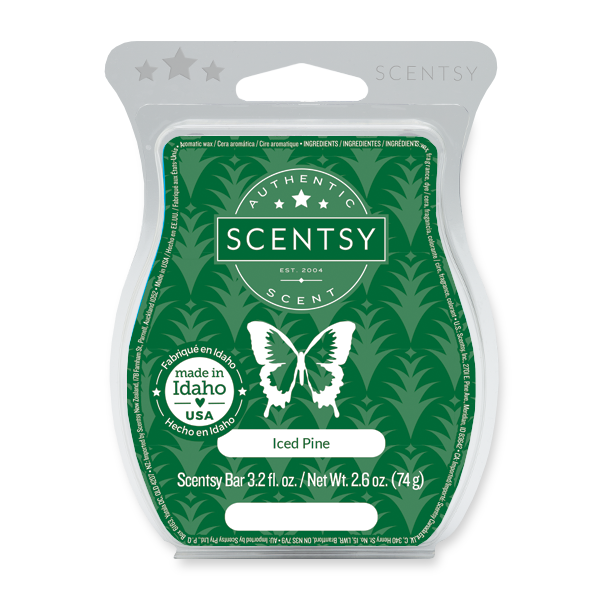 Iced Pine Scentsy Bar
$6.00
Made of high-quality paraffin wax for long-lasting fragrance, Scentsy Bars are composed of eight break-apart cubes designed to use with any Scentsy Warmer. As the cubes melt, they fill your space with our exclusive scents, inspiring imagination and memories. Safe to use — no wick, flame, smoke or soot. Made in Idaho, USA. Net wt 2.6 oz.
As refreshing as a walk through newly fallen snow: green fir and pine, kissed by icy peppermint.
Diethyl phthalate, 2,6-dimethyl-7-octen-2-ol, 2-methylpentyl 2-methylvalerate, 3-cyclohexene-1-carboxaldehyde, dimethyl-,3-hexenol, 3-methyl-5-(2,2,3-trimethyl-3-cyclopenten-1-yl)pent-4-en-2-ol, 5-(2,2,3-trimethyl-3-cyclopentenyl)-3-methylpentan-2-ol, Ambrox dl, Amyl formate, Anisic aldehyde /aubepine, Benzaldehyde, Benzyl salicylate fcc, Bourgeonal, Cinnamic aldehyde, Cis-3-hexen-1-yl methyl carbonate, Cis-3-hexenyl salicylate, Citral, Citrus aurantifolia (lime) oil, Citrus aurantium dulcis (orange) oil, Citrus medica limonum (lemon) peel oil, Coumarin nf, Cyclogalbanate (dragoco), Damascenone total (firm), Damascone alpha, Dihydro floriffone td, Dimethyl anthranilate, Dipropylene glycol, Dipteryx odorata bean extract, Ethyl butyrate fcc, Ethyl linalool, Ethyl trimethylcyclopentene butenol, Ethyl vanillin, Ethylene brassylate, Frutarom specialty base, Gamma-undecalactone, Geranyl acetate synthetic, Hexamethylindanopyran and isopropyl myristate, Hexenyl acetate, Hexyl acetate, Hexyl cinnamal, Hydroxycitronellal b.j., Ionol bht, Ionone beta pure fcc, Iso amyl acetate fcc, Jasmal, Jasmin type egyptian hyperessence, Juniperus virginiana oil, Lavandula abrialis, Linalool, Linalyl acetate, Linalyl formate fcc, Lyral w/ bht, Methyldihydrojasmonate, Neryl acetate, Oxacyclohexadec-12-en-2-one, (12e)-, P-menthan-7-ol, Prenyl acetate, Styralyl acetate/gardenol, Sulfurol, Tetramethyl acetyloctahydronaphthalenes, Triethyl citrate/citroflx, Vanillin, Vertofix
You might also be interested in...