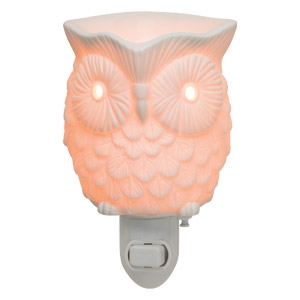 Whoot Mini Warmer
$20.00
Whoo whoo! Whoot is a piece of art, a finely detailed warmer that glows golden when on. Flip the switch and watch this symbol of wisdom come to life. Wattage: 15W Finish: Glow Dimensions: 3.5" Melt our wax with the heat of a low-watt light bulb and fill your space with fragrance — not flame, smoke or soot. • Over 100 designs — including mini warmers — to suit every taste and décor. Available with or without illumination! • Featuring high-quality materials like ceramic, glass and metal, all handcrafted by artisans around the world. • Finish the look with fun, stylish accessories like colored light bulbs and warmer stands. • Lifetime warranty! Scentsy Wax Bars• Over 80 available fragrances, so there's something for everyone. • Fragrances are arranged into families to make it easy to find your favorites. • Don't miss our Disney-themed fragrances inspired by your favorite characters.
1. Plug the warmer in.
2. Add desired amount of Scentsy Bar wax cubes to the warmer dish
3. Turn the warmer on and enjoy!
4. For easy cleanup to switch your fragrance, add some Cotton Clean-ups to your order!